Metamoris Pro Invitationals: Gracie Barra's Octavio Sousa Takes on Kron Gracie
It's going to be an all out war!  It's a mega fight between two of the world's top Brazilian Jiu-Jitsu athletes, as our very own Octavio Soussa, takes on a fellow legend Kron Gracie. For most Brazilian Jiu-Jitsu fight fans, this is the ultimate proving ground for the best of the best in the sport. To date, both fighters have already proven themselves to be at the top in the rank of BJJ specialists. The Metamoris Pro invitational takes place on October 14, 2012 in the Viejas Arena at the Aztec Bowl, San Diego State University.
14 of the world's best Jiu-Jitsu fighters will take on the greatest challenges of their martial arts careers.
Metamoris Pro is an invitational event.  It's not a tournament. There are no teams competing this time. The event will consist of the top Brazilian Jiu-Jitsu artists competing in a 20 minute, no-points format. Only by submitting their opponent will secure them a victory. Failure to do results in a draw.
As of this writing, Octavio is the underdog as Kron leading the predictive talliues 3 votes to 1. Numbers and predictions do little to actual fights. Because it all boils down to which competitor is more determined to best the other. The excitement is in the air as October 14 closes in for both fighters.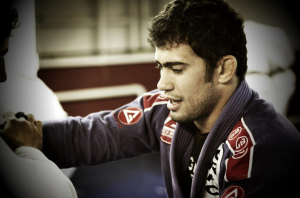 GB.com: So how's your preparation for the Metamoris Pro going?
Prof. Octavio:  My preparation for the METAMORIS is going excellent. I'm feeling great and I am looking forward to that (the tournament).
GB.com: There seems to be a lot of hype to this fight. And the internet write-ups are considering your bout with Kron to be a superfight. Tell us your thoughts about it.
Prof. Octavio: I think the Metamoris Pro will be an amazing event, a lot of interesting fights (in it) and I think Ralek Gracie is doing a very good job promoting the event and exposing the athletes. That's very good for the sport and very good for us athletes as well.
GB.com: 20 mins to submit an opponent – will that be enough time for both of you?
Prof. Octavio: I am very excited. For sure my match with Kron will be a war. We both like to attack a lot and certainly we are not  going to relax until we get the submission. That's why I think this match will not go until the end. One of us is going to tap before the 20 minutes. I hope it's not me (laughs).
GB.com: Tell us your feelings now for the fight and why?
Prof. Octavio: Every tournament that I decide to compete, I always go with one thing in my head, which is bring home the gold and represent well my team. So every tournament, every match means a lot to me. And the METAMORIS will not be different, I am really going for it and it means a lot to me as well. I am training hard for that and very excited on how it's all gonna play out.
GB.com: How much does winning this match mean to you?
Prof. Octavio: It means a lot and I would like to thank all my teammates for helping on getting me ready for that. Everyone from Gracie Barra is pushing me really hard and I am so grateful for everything. All the students that are cheering for me, my family, my girlfriend and my professor Ze Radiola that will not be able to come watch me, but I am sure he will be in Recife screaming for me.
GB.com: Your submission skills, who among the masters do you give credit to?
Prof. Octavio: I give all the credits to my professor Ze Radiola, which I have been training, since a I was a little kid. He taught me everything I know. And also I am really Grateful for all the support and help that all the GB members has given to me, since I got here in the US, like Marcio Feitosa, Flavio Almeida, Marco Joca and Master Carlos.
Watch the Countdown Video