During the last weekend (16 and 17), the carpets in the competitions were busier than ever. The Pan American Child, selective and Abu Dhabi Summer Open took place despite the huge difference, all participants were a community. We are proud to announce a brilliant performance of Gracie Barra.
On Saturday, our young future champions showed their skills. 97 soldiers proudly wore the red coat. Although small in size, their efforts got great results: 241 points won second place for Team Gracie Barra.
Speaking of big stars in GB, André Campos, Rodrigo Fajardo Victor Estima and qualified in the World Pro tryouts held in Gramado – RS consolidated their position the big day in Abu Dhabi.
In Rio de Janeiro, the 2014 Summer Open event held by the Federation of Jiu – Jitsu in Rio de Janeiro (FJJRIO) at the Yacht Club. The competition was held during the state championship season. As usual, the participation of Gracie Barra led to gain many victories and medals in different weight divisions.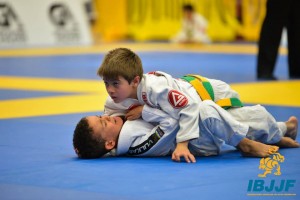 The championship lasted two whole days. The first was reserved for demonstrations of juvenile category, blue belts: Arian de Melo (17), Henrique Salgado (16) and Juan Pedro Soeiro (17) won the highest place. The teacher highlights were blue belts Rodrigo Ferrari and Fernando Carmo, both win first place and a brown belt, Manoel Adjal won the silver medal. After 10 years without competing, he served as an example of resilience and inspiration to all.
Teachers also participated in the competition. Among them, Diego Almeida "Tutuba" black belt, head GB Book after winning 2 fights (one by submission and one by points) won the bronze medal as Adriano Cleto, brown belt and instructor in GB Flamengo. Among the most experienced third degree black belt, Joelson Venancio "Joe", instructor in Rio GB Matrix, including training classes and prepared for the competition, winning the 2nd place.
Thanks to the dedication and efforts of our warriors the result of the competition was the third place for our team, with a total of 129 points. This being the first event of the athletes that won first and second place in the ranking last year were awarded with diplomas and trophies FJJRIO.
Moreover, Jefferson Moura, general coordinator of GB in Rio received from the Master Robson Gracie – President FJJRIO, the trophy for third place for the overall result for the team in 2013.
"I would like to congratulate all who represented our red coat. trophy for third place is a great achievement, but it could have been better. every day are better than before, closer and closer to our goal of being first. Soon we will have a good position. We will next more prepared. competition, "said Jefferson Moura.
Check out photos from the event this past weekend: