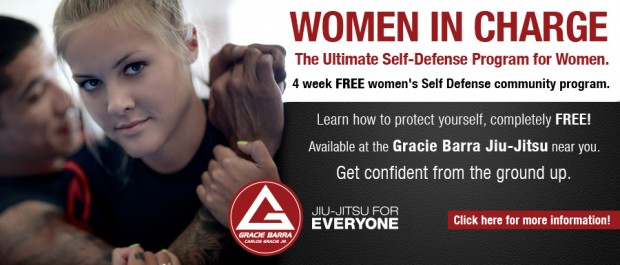 Every 2 minutes a woman is sexually assaulted in United States.
Don't become part of the statistics. Learn Self Defense for FREE at GB!
Gracie Barra is offering an exciting and well structured Self Defense program. And the best part of it: IT'S FREE! 
Our 4-week Women's Self Defense Program will prepare you physically and mentally to deal with a potential attack.
In this program we will cover the most common attacks against women. How to prevent them, and respond effectively! You will learn from a GRACIE BARRA certified instructor, several different techniques that could literally save you life in case of an sexual attack.
Besides developing some life saving skills, you will also have tons of fun and even lose a few pounds while training with us!
All participants who complete the 4-week Self-Defense course will receive a special gift: 1 MONTH OF FREE JIU-JITSU CLASSES to keep up with your training.
So, get ready! The WOMEN IN CHARGE Self Defense program starts this month, at a GRACIE BARRA JIU-JITSU SCHOOL near you!
GRACIE BARRA – Jiu-Jitsu for Everyone!
    *School participation may vary.