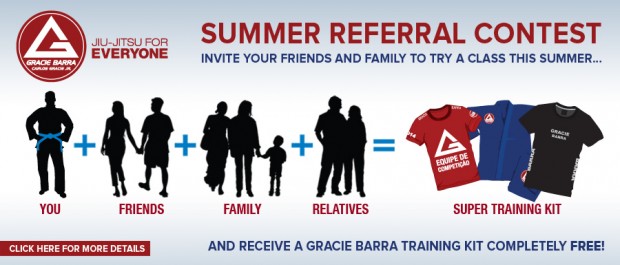 Can you imagine anything more exciting than sharing the mats with your peeps this summer?
On top of that, try to picture yourself receiving an exclusive Gracie Barra training kit, including an official GB/Storm uniform, Rash Guard, and GB Red Equipe T-shirt completely FREE! Now, stop just thinking about it: This month you have a chance to get it all!
Simply invite your friends and family members to try a FREE Introductory Lesson and enter for a chance to win an exclusive GB training kit. At the end of the month, the student who brings the most referrals for a FREE Intro Lesson will win the big prize. It's that easy!
Invite as many people as you wish and make sure to let us know when they are coming. This way we will be able to coordinate the best time for them to experience Brazilian Jiu-Jitsu, first hand, from one of our qualified instructors.
KEEP IN MIND: Membership purchase is NOT necessary. All that your folks need to do is to give Gracie Barra Jiu-Jitsu a try and you may receive an awesome gift from us, in return for your referrals.
GRACIE BARRA – Jiu-Jitsu for Everyone!
    *School participation may vary.