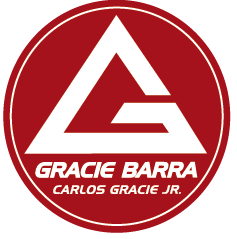 Our team color is the red, our team flag is the Red Shield. The Red Shield connects the Gracie Barra community, our students taking their first class, our Black Belts graduating, our athletes in battle, our instructors teaching, our Schools keeping the legacy alive.
The Red Shield was created by Master Carlos Gracie Jr. with the purpose of unifying all of those who represent Gracie Barra, defend and pass forward the legacy transferred down from Grand Master Carlos Gracie, and other jiu-jitsu legends such as Hélio Gracie, Rolles Gracie and Carlos Gracie Jr.
The Red shield's credibility was built over the years through hard work and excellence shown by the Gracie Barra students, athletes and instructors involved in sport Jiu-Jitsu competitions, teaching programs and community work. The Gracie Barra Red Shield is one of the most recognized symbols in Jiu-Jitsu today and all of those who carry it feel a deep sense of loyalty and commitment to Master Carlos Gracie Jr, Gracie Barra and the Jiu-Jitsu for everyone movement.